PLYMOUTH, Ind. — A probable cause affidavit is revealing more of the timeline of events leading up to the disappearance of Mercedes Lain.
The 11-month-old girl was last seen four days ago and the state investigators continue to look for her with help from the FBI. Court documents say Mercedes' parents are now in jail charged with neglect.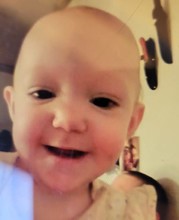 According to the court documents, Kenneth Lain and Tiffany Coburn dropped their daughter off with Justin Miller so that "could have a break." While Miller had Mercedes he initially told police her stay with a friend in Koontz Lake, but then changed his story saying he was with his girlfriend in Mishawaka.
On Sunday, when he was supposed to drop Mercedes off at the motel where her parents were staying, they weren't there, so he told police he left the little girl with a woman who was staying in their room because he had to get to an appointment.
Later on Friday, he showed up at a friend's house with Mercedes but then came back again on Sunday without her.
No one has seen Mercedes since.
Miller admitted to police that he had been using K2 while watching Mercedes. As for the parents, they admitted to being in contact with Miller after their daughter went missing, but say they don't know where she is.
Both were arrested and also admitted to using meth while Miller was watching Mercedes.