STATEWIDE–There are ways to properly cope with the coronavirus pandemic, says the Indiana Family and Social Services Administration (Indiana FSSA).
The FSSA says one of the biggest ways to keep a positive frame of mind is to stay connected.
"Stay connected to your social network to keep you grounded and feeling supported. To the extent possible, stay in touch with your family, friends, faith communities, or others you deem as healthy supports," says Dr. Kory Carey from the Volunteers of America Ohio and Indiana in a video posted to Indiana FSSA's Twitter account.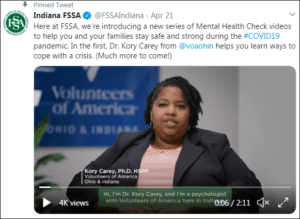 Carey also says there are ways for you to give back even while practicing social distancing.
"Consider volunteering as a tutor through social apps. Help organize an online fundraiser. Step in and do yardwork for a neighbor in need. If you're under the age of 60 and otherwise healthy, volunteer at a local food pantry," Carey continued.
She says you need to avoid coping with drugs and alcohol. If you're in recovery from any type of substance abuse, Carey recommends you find an online peer recovery group.
"You might have a mental illness that precedes the crisis or have suffered a previous trauma or tragedy and find it especially hard to cope. The important thing is to be aware of your warning signs and symptoms," Carey said.
Carey said you should seek professional help if you are unable to perform daily functions effectively, have thoughts of self-harm or suicide, experience crippling sadness or anxiety, or if you're just unable to bounce back.