On February 4, President Donald Trump delivered his State of the Union Address, during which he addressed the threat to America from the coronavirus, saying at one point, "Protecting Americans' health also means fighting infectious diseases. We are coordinating with the Chinese government and working closely together on the coronavirus outbreak in China. My administration will take all necessary steps to safeguard our citizens from this threat."
What was House Speaker Nancy Pelosi doing at the time? Pouting, rolling her eyes, and chewing her dentures. And the very moment President Trump finished his speech, Pelosi tore it to shreds in a childish display of defiance.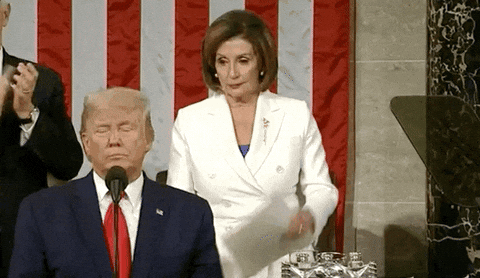 When Speaker Pelosi was asked why she had behaved in such a disrespectful manner, so sternly replied: "I tore up a manifesto of mistruths. It's very hard for us to get you to talk about the issues that we are working on … it was necessary to get the attention of the American people to say. 'This is not true.' … I don't need any lessons from anybody, especially the President of the United States, about dignity."
Full tilt class, Madame Speaker.
January 31, four days before the State of the Union speech, and the day after the World Health Organization finally admitted that there was human transmission of the coronavirus, Trump instituted a ban on people coming from China and issued a statement asserting:
"During Fiscal Year 2019, an average of more than 14,000 people traveled to the United States from China each day, via both direct and indirect flights.  The United States Government is unable to effectively evaluate and monitor all of the travelers continuing to arrive from China.  The potential for widespread transmission of the virus by infected individuals seeking to enter the United States threatens the security of our transportation system and infrastructure and the national security.

"Given the importance of protecting persons within the United States from the threat of this harmful communicable disease, I have determined that it is in the interests of the United States to take action to restrict and suspend the entry into the United States, as immigrants or nonimmigrants, of all aliens who were physically present within the People's Republic of China, excluding the Special Administrative Regions of Hong Kong and Macau, during the 14-day period preceding their entry or attempted entry into the United States."
Meanwhile, Nancy Pelosi was focused on post-impeachment political cleanup duty and attempting to popularize the phrase "The President is impeached forever."
Can we stop pretending like the President is to blame for the Coronavirus pandemic now?
https://omny.fm/shows/tony-katz-and-the-morning-news/flashback-to-state-of-the-union-trump-talks-corona
Photo: Mandel Ngan/Getty Images